Mozambique: President Nyusi Appoints Maj Gen Chume Defence Minister after Sacking Jaime Neto
MAPUTO —
The President of Mozambique appointed Major General Cristóvão Chume Defense Minister, replacing Jaime Neto, who was exonerated yesterday , Arsénia Felicidade Félix Massingue, Interior Minister, a portfolio occupied until two days ago by Amade Miquidade , and Constantino Alberto Bacela Minister in the Presidency for Affairs of the Civil House, replacing Massingue.
In the press release of the Office of the Presidency of the Republic released this Thursday, 11, with the nominations, Filipe Nyusi makes it known that, before, he exonerated Cristóvão Artur Chume from the position of Commander of the Army Branch.
With the appointment of Major General Cristóvão Chume, the Defense portfolio is back in the hands of a career soldier, as the Defense and Security Forces fight the insurgents in Cabo Delgado , with the help of troops from Communities for Development from southern Africa and Rwanda.
Chume has been standing out in recent days at the front of the combat in Cabo Delgado province coordinating the army's actions.
First Woman Interior Minister
Before commanding the army branch of the Armed Forces for Defense of Mozambique, he led the Military Academy "Marshal Samora Machel", in the city of Nampula, for two years (2019-2021), and was National Director of Defense Policy, post. which held from 2011 to 2019.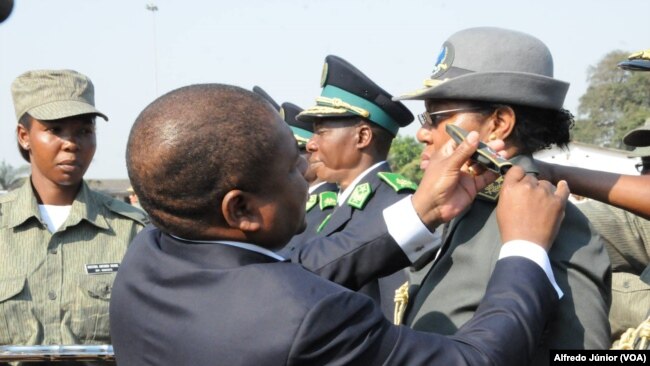 For her part, Arsénia Felicidade Félix Massingue will be the first woman to head the Ministry of Interior.
A year ago, specifically on 20 November 2020, under the proposal of the Minister of the Interior, Massingue was one of the officers promoted from Chief Commissioner for Migration, from Echelon 1 to Echelon 3.